Printing
AUTOMATIC BILLING
What you need to print in the computer labs:
You need to have a user account.
You have an initial credit of 5 €. For additional printing you can buy value cards for 10,- € or 20,- € at room 222.
You can reach the printing webinterface in the computer labs through the following link:

http://domad1:1680

(only works in the computer labs)
Login with your Windows account to see the billing details and activate value cards.
Paper is not provided and must be brought by you.
The inital credit is meant to compensate for printer errors. As there is no additional compensation we highly recommend to test the functioning, before issuing a large printing job, for example by printing just the first pages of your document and also splitting the rest in smaller jobs.
Current prining costs are:


| | |
| --- | --- |
| A4 page white | 1 Cent |
| A4 page colour | 4 Cent |

Remaining credits can not be payed back.
Accounts will be deleted after one semester without usage.
PLEASE NOTE
If possible use the menu "File" -> "Print" ("Datei" ->"Drucken") and not the button to be able to configure printing options.
The printer names start with prn-3407-....
Colour / Black and White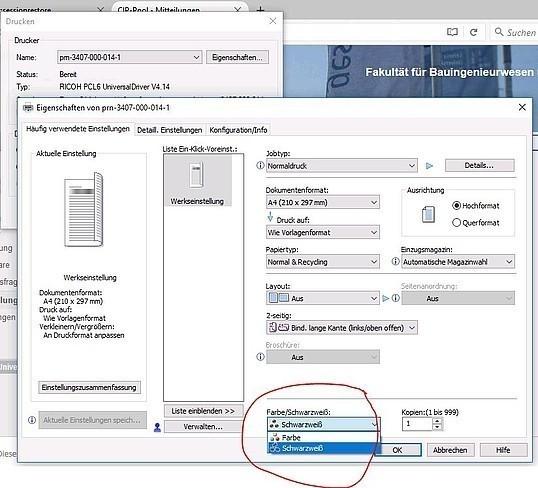 The automatic billing can not recognise black and white pages in mixed prints and charges all printed pages according to your selection in the printing options as colour ("Farbe") or black and white ("Schwarzweiß").
Several pages per sheet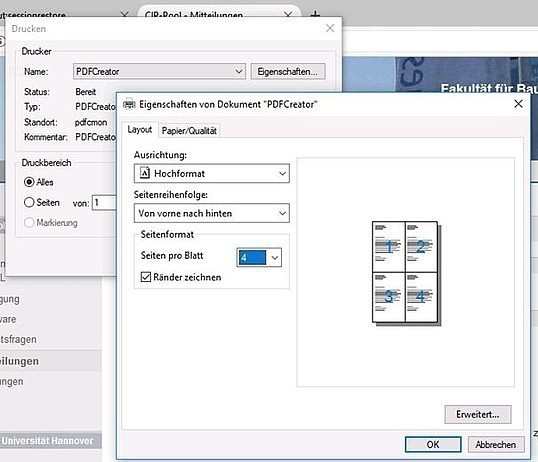 The automatic billing can not recognise the several pages per sheet option and charges for all pages in the original document and not the printed sheets. For correct billing with several pages per sheet, you need to first print with the virtual printer "PDFCreator" (using the several pages per sheet option) to create a PDF and then print this PDF (the normal way).